Plastic Packaging & Sustainability
Understanding The Environmental Issues
Beginner – 2h 30mins
Quick Summary
How much plastic waste enters the oceans each year?
What makes plastic and other materials 'sustainable'?
This course answers these questions and much more, tackling the topic of plastic packaging and the environment, uncovering how to approach the issue from an analytic standpoint, and equipping learners with an understanding of important factors across many areas of sustainability.



There are twelve sections in this course
Introduction to Sustainability
The Life Cycle Approach
Optimising Material and Energy Flows
Managing Plastic Waste – Marine Litter
Managing Plastic Waste – The Waste Hierarchy
Societal and Environmental Benefits of Plastic Packaging
Why Do We Use Different Types of Plastic?
Eco-design – General Principles
Designing for Recyclability
Bioplastics
Policy and Legislation
Course Recap
The course should take you between 1 hour and 90 minutes to complete.
This course is suitable for anyone with a keen interest in sustainability and packaging.
This introductory course takes a tour of the issues surrounding plastic packaging and the environment, uncovering the factors that matter, how to create sustainable packaging, and ways to reduce plastic waste.
In particular, this course will benefit those working within the packaging supply chain.
Anyone from a background in retail, marketing, design, sustainability, manufacturing, branding, packaging or any other related industry will find this course useful.
On-demand audio and animations
Full lifetime access
Access on mobile
Certificate of completion
The content of this course was developed by Berry Global Design Manager Brian Lodge.
Brian has worked on packaging design, mainly in the plastics industry, for over 30 years. He has worked on a wide range of products in the UK, Europe and Africa for converters, design consultancies and brand owners.
Brian's main interests lay in design for the circular economy and producing packaging that is more sustainable while meeting the needs of the brand, supply chain, the consumer and the product.
Currently his role at Berry involves not only leading sustainable design initiatives but also representing the company in several organisations including the BPF Council, Alliance to End Plastic Waste, RecyClass, INCPEN, PCEP, the Circular Plastics Alliance, OPRL and many others.
Receive your certificate upon completion
We look forward to welcoming you onto our course.
If you are ready, click the button below to enrol today!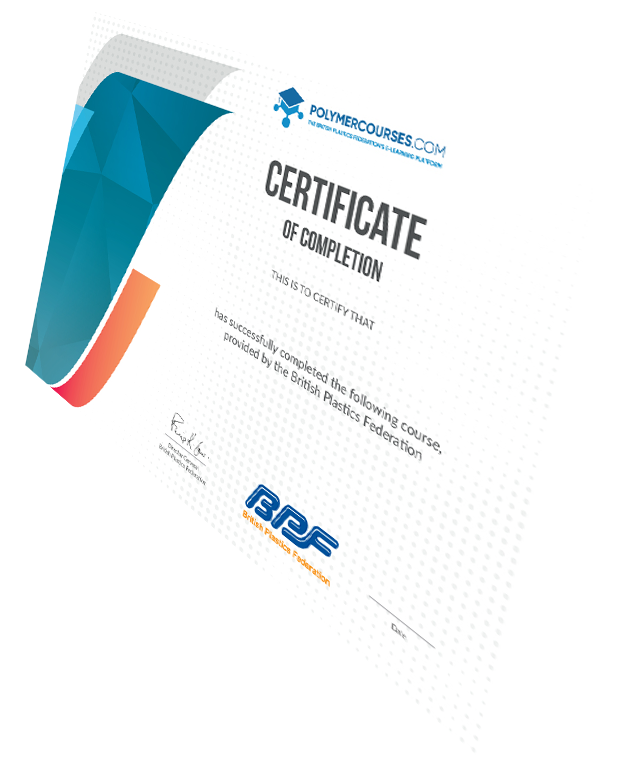 You may also benefit from enrolling in these other Polymer Courses: